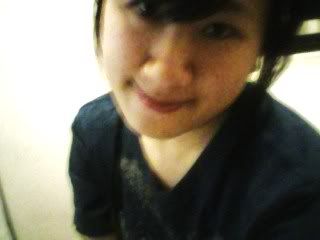 I lost my camera.
I can't find my camera.
so that means.... No photos for this post
:(
I know... I like to see photos too rather than just read what I'm crapping here..
Anyway, I went out with
Ah Bao
and
Qiqi
yesterday
HAHA.. to Sunway.... was CRAZY window shopping..
I had no money so that trip to the mall was a little restricted :D
Before that, I had piano class.. and it delayed a little
when I got home that two girls were like
They: "We're at your house already"
Me: WHAT?! I just got home! I'm not ready yet!!!!
They : oh, it's okay.... we'll wait...
Me : == And I can't find my purse...
They: ahahahahahah...
==And so, I went rushing out of the house....
Went there and met Aqilah and her Boyfren~ :D(so sweet)
And she was like regretting going out cause SPM was near and stuff...
Chill la sayang :D
After window shopping, the 3 of us went for dessert....
My HoneyMoon
I don't know if any of you been there
but the dessert are DAMN EXPENSIVE (at least for me la)
cost about 10++++ per bowl
but it's SUPER filling cause they put alot of those coconut milk....
this photo was NOT taken by me...... i got it from the web :D


And for dinner, we went to have steamboat near Inti college and met up with
Xiu Wen
..
GAHHHHH its been ages since i saw her!!! I miss her sooooo much!!!!!
ILOVEYOU DARLING!!
was crazy laughing and gossiping there....
Still, what a shame that i didn't take any photos....
I MUst get my own camera soon!!!!